Main Source: https://www.consilium.europa.eu/en/policies/green-deal/fit-for-55-the-eu-plan-for-a-green-transition/
As part of the European Green Deal, with the European Climate Law, the EU has set itself a binding target of achieving climate neutrality by 2050 .
The Fit for 55 package is a set of proposals to revise and update EU legislation and to put in place new initiatives with the aim of ensuring that EU policies are in line with the climate goals agreed by the Council and the European Parliament.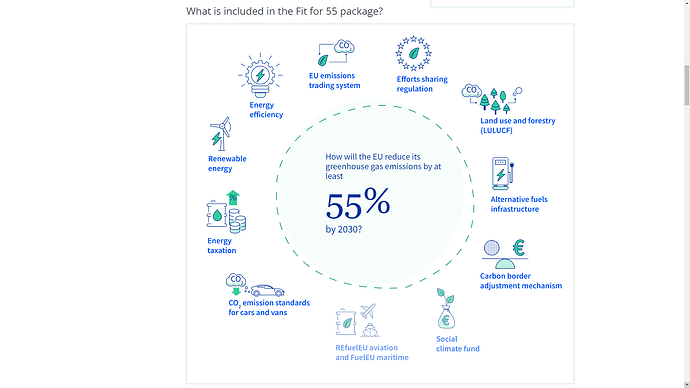 As the global temperature rises, the 27 EU countries are taking further action to tackle climate change

They agreed last week on new EU rules to:

• cut emissions in energy-intensive sectors of the economy

• focus on renewable energy and cut imports of fossil fuels

• absorb carbon from the atmosphere thanks to forests

• make new cars and vans zero-emission by 2035

• help the most vulnerable people and businesses

Find out more about how EU countries are working together to make Europe greener.